 Ultrasonic Test
CTM SYRVEY provides hatch cover weather-tightness tests for different types of vessels (bulk carriers, container-ships etc).
Those tests are performed with a visual inspection in order to determine the proper condition of a vessel prior loading.
We use a class type approved ultrasonic equipment (SDT270, approved by Lloyd's register).
How does it work ?
A transmitter emitting ultrasonic waves is placed inside a cargo hold for instance. An open hatch value is obtained in order to be used as a reference point in the inspection. Ultrasounds passing through sealing arrangement or other areas (crack, holes etc) can be easily detected by a hand-held ultrasonic receiver. Each value exceeding the threshold is compiled in a survey report.
As a complement to the ultrasound test, a visual inspection is usually proposed to determine the good condition of the latter.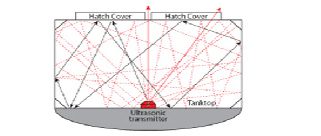 What advantages ?
This test can be crucial in order to determine any problems of packing rubber compression or eventual leakages that can affect the hatch covers and cause a risk, not only for the cargo, but also for the crewmembers.
Among all available inspection methods, the ultrasonic test has significant advantages:
Allows the detection of a lack of compression or contact on the seals
Localizes precisely the defective areas or leakages (useful to undertake repairs)
Gives an indication about the compression levels
Can be performed during bad weather conditions
Non destructive testing method